The Apostolic Nuncio to Ghana, Most Rev. Henryk Mieczysław Jagodziński is expected to be in the Catholic Diocese of Wiawso later today.
A letter cited by Catholic Trends indicates that the Nuncio will visit Wiawso Diocese on the eve of Wednesday, January 25. He is expected to hold a meeting with all the Priests, Religious and a cross-section of the lay faithful in the Diocese on Thursday, January 26, 2023.
It is expedient to note that the Apostolic Nuncio is the representative of the Holy Father and a visit to a Diocese preceded by a letter announcing a meeting cannot be an ordinary visit.
The letter dated January 23 and signed by the Bishop of the Wiawso Diocese, Most Rev. Joseph Francis Kweku Essien indicates that the meeting with the Nuncio will happen at 11am.
Does the time ring a bell? Ghana is located at longitude 0 degrees and 15 degrees West of Italy. This means Ghana is an hour behind Rome time. This again means that it will be 12 noon in Rome.
It is important to note that all announcements by the press office of the Vatican concerning the Church in the world happen around that time.
Catholic Trends on January 23 reported that per the age rules, Bishop of the Wiawso Diocese, Most Rev. Joseph Francis Kwaku Essien, turns 78  years this year.
This means that he has served almost three more years after hitting the canonical retirement age of 75 and Pope Francis may soon appoint a new Bishop for the Diocese.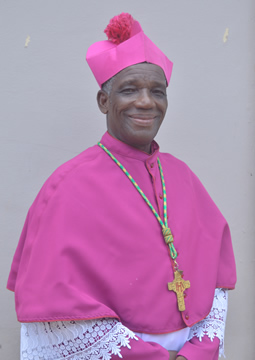 It must be carefully noted that all bishops offer to resign at age 75 as stipulated by the Canon Law. However, he may request to have his resignation accepted before that age if he feels he is unable to continue in his ministry due to ill health or other reasons.
Whether or not to accept a resignation lies with the Pope. If the Pope believes that a Bishop is still able to carry out his duties effectively, he may choose to keep him in place beyond the age of 75. However, if the bishop is no longer able to perform his duties adequately, the Pope will typically accept his resignation and appoint a successor.
Keep reading Catholic Trends